Subsection
12.1.4
Peer Editing Tools
One of the cooler features of word processors is that many of them allow you to comment, offer suggestions, and even directly overlay changes onto a document. This can be particularly useful when you are peer reviewing another person's document, which you will undoubtedly be doing a lot of throughout your college career. Keep in mind that it's generally more constructive to use the comment function to offer suggestions rather than editing the document directly. That said, tracking changes directly can be useful for smaller errors or editing suggestions. (For more tips on peer review etiquette, see
Subsection 4.3.2
.)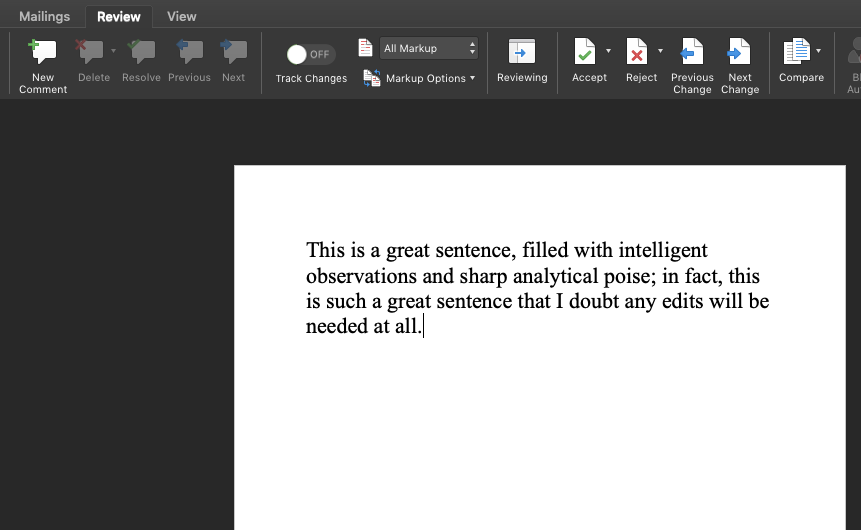 To comment on a specific part of someone's writing, open the "Review" tab, highlight the desired phrase, and select "New Comment" in the toolbar.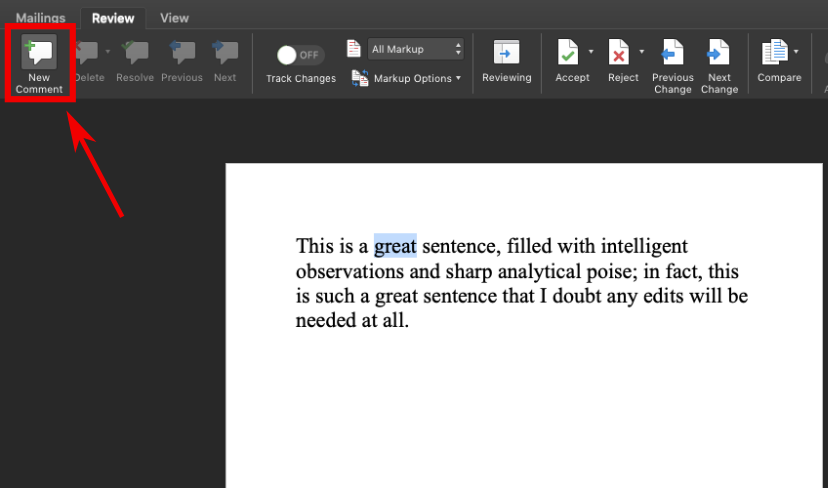 A red-outlined box will appear to the right with a line indicating the section being discussed by the comment. In this box, you can write friendly suggestions, observations, and questions about the text, which your peer may then reply to or check off as resolved.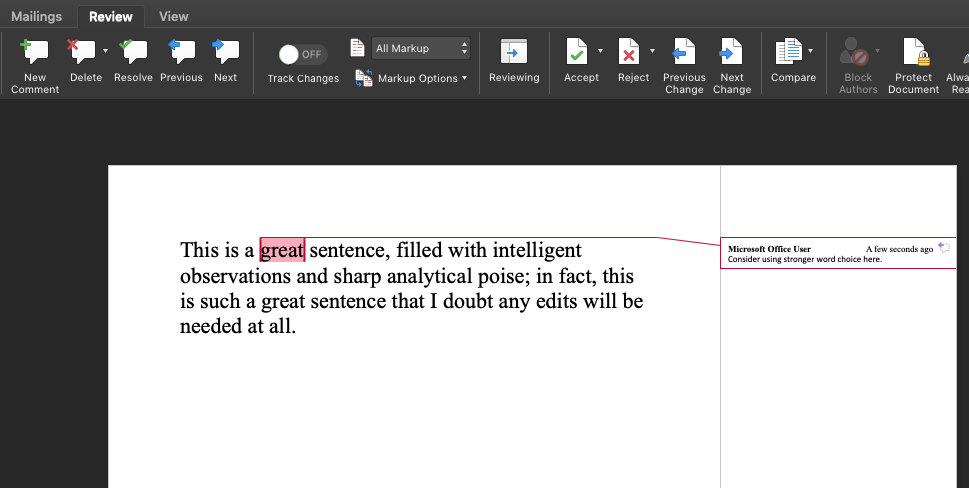 You can also edit the other's person's writing directly using Track Changes. Open the "Review" tab, select "Track Changes" in the toolbar, and scroll down to select the "Track Changes" option.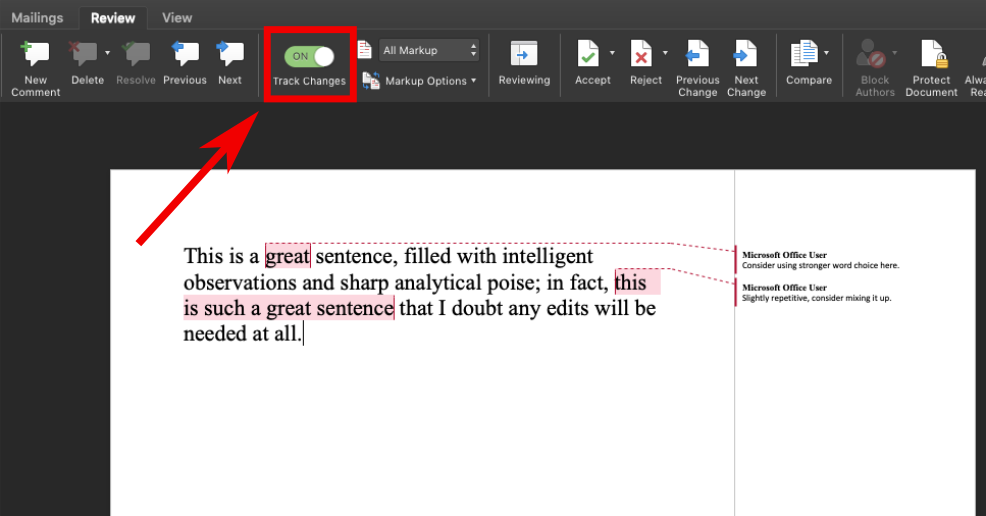 When using Track Changes, feel free to edit the document as you would any other (deleting portions, adding new ones, etc.) and all of the changes you make will be in red overlaid on top of the original document. Track Changes is useful because it allows you to work directly with the text while saving the original. However, try to keep the revisions you make using Track Changes to a minimum while reviewing peers' work; if you change, add, or remove too much from the text, you could inadvertently start to take control of the document, making it less of a mutual collaboration between you and your peer and more of a copy editing session.
If you are being reviewed, you can accept or reject tracked changes by placing your cursor over a particular change and clicking "Accept Change" or "Reject Change," which will replace the original work with the edit or ignore the change altogether, respectively.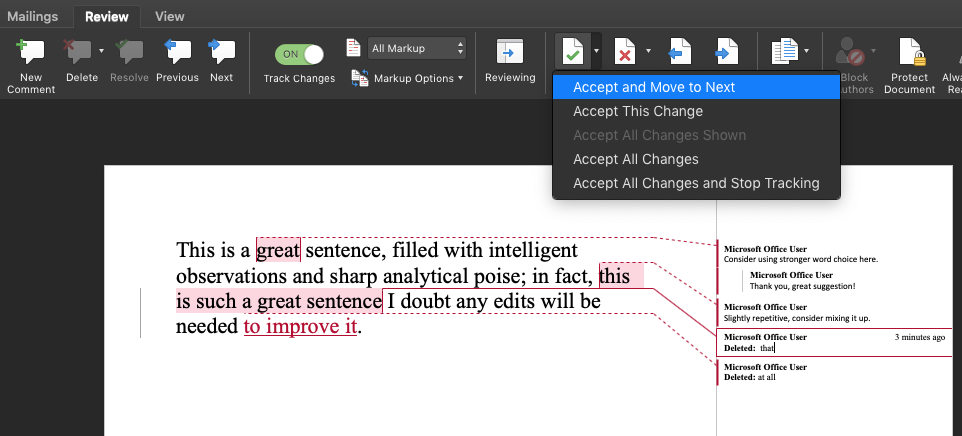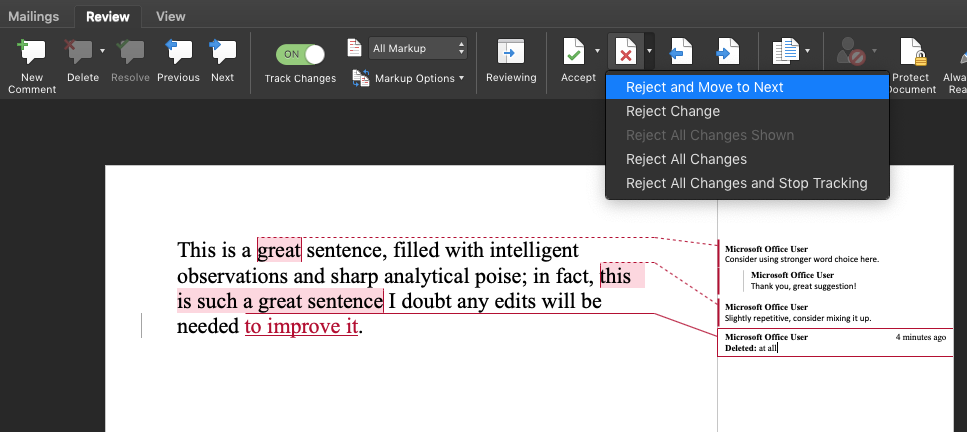 After reviewing your peer's comments and tracked changes, your sentences (and those of your peer) will likely be even stronger than before.